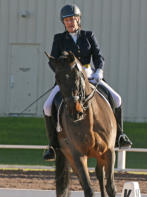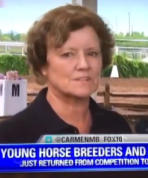 Mary Jane Parmentier
Instructor/Trainer
Kristin Miller
Volunteer Coach
Interscholastic Equestrian Association
Dressage Team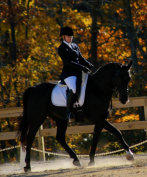 Kristin Miller

is a USDF Bronze medalist and currently working on her
Silver medal. Her scores are all earned on horses she has trained herself.
Kristin is also enrolled in the USDF L Education Program. She volunteers
her time with our beginner and youth programs. Classical Dressage is the
basis for all aspects of Kristin's work with riders and horses. Correct
position and training the riding on the lunging are one of the training
aspects in which she specializes. Kristin is detail oriented and has a talent
for clearly explaining in a positive and engaging manner. Kristin also
assists in our offices with bookkeeping.
Jordon Parks
Rider/Trainer Young Horse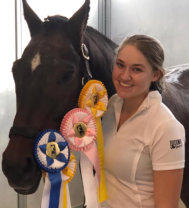 Jordan Parks

specializes in working with both young dressage horses. She
enjoys the whole process - from necessary groundwork to lunging, to
backing, to competing in the show ring. Jordan enjoys the process, and she
has a unique talent for keeping the young horses calm and happy;
explaining the aids to them so that they easily understand. She can get them
on the right path from the very beginning without pressure or force. Jordan
believes in the classical method of dressage and the correct starting of
young horses. Proper handling on the ground, followed by correct lunging,
followed by correct riding, creates a happy horse who understands his/her
job in a relatively short period of time. Jordan works directly with Dorie
Vlatten-Schmitz to improve a horse's athleticism and training progression.
Erika Reyes
Beginner and Youth Volunteer
Coach CARA Scout Program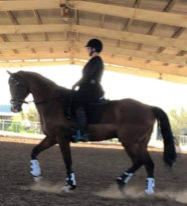 Erika Reyes

started riding when she was a seven-year-old. Her first
experience with riding was at a summer camp in New Jersey, from then on
she just fell in love with horses and everything that went with it. She started
with jumping but little by little she shifted to dressage. Erika did five years
at Lisa de Vito's barn in Walnut Creek, CA. When she moved to Arizona, she
joined CARA where she trained for a couple of years in jumping and since
then, she has been doing dressage which she loves. Erika has always been a
barn rat and still rides every free moment she has. At times she volunteers
to teach camp and children.
Dr. Lindsay Whipple
PT, DPT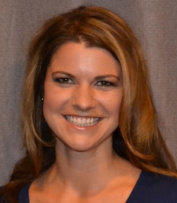 Dr. Lindsay Whipple

, PT. DPT, Doctor of physical therapy and
accomplished equestrian, Lindsay offers specialized treatment and
corrective exercise programs for the human equestrian athlete. As a life
long competitive rider herself, she recognizes the physical demands and
psychological challenges involved in the optimizing rider performance to
best influence the horse's movement and success regardless of discipline.
As a physical therapist specializing in elite sports and performing arts
rehabilitation, she uses specific evaluation techniques to identify
musculoskeletal imbalances in the body which are addressed using manual
techniques and individualized corrective exercises to overcome injury,
resolve muscular imbalances and strengthen the rider position and aides.

Lexie Schmitz

, joins the CARA Team as the Administrative Assistant.
She is a 2019 graduate of Benedictine University at Mesa with a
Batchelor's degree in Communication Arts. Lexie has ridden since the
age of 4 and she enjoys sharing her love of animals with others. She is
committed to making your experience at CARA a positive and
welcoming one.
Lexie Schmitz
Administrative Assistant